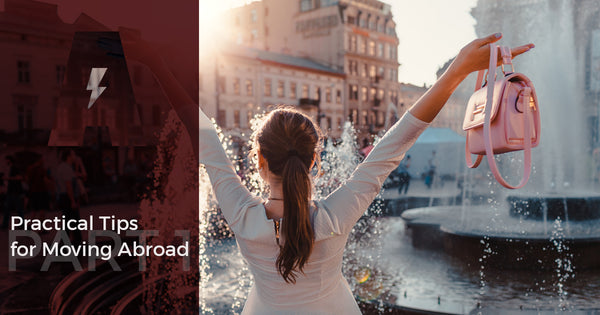 Practical Tips for Moving Abroad, Part 1
Moving to a new country is an incredible experience, but it can also be a challenge. ACUPWR is here to make sure your electronic appliances work no matter where you are in the world. We want to make every part of your move just as easy, which is why we've come up with these practical tips for moving abroad! 
1. Learn About Your New Country
Understanding the culture, history, and geography of your new home will help smooth out your move. You should also know what currency they use and how their government works. The best way to prepare yourself for your new life is to start learning the language and giving yourself a few months to practice. It may be hard now, but it will make everything easier once you've moved.
2. Decide What To Pack
You should definitely bring anything essential to your everyday activities, important documents, and anything with sentimental value. You don't have to bring everything, because chances are you'll be able to get what you need at your destination. There also may be some restrictions on what you can bring to your new country, like plants or flammable materials. Double check what you're allowed to bring and then factor in cost. If you're only going to be in the country for a year or two, it might be more worthwhile to store big items like furniture.
3. Decide How To Move Your Belongings
Most items can be moved by air or by sea, although transferring by sea will take longer. You should consider both how much it will cost and how long it will take. If you own a car, that will likely be the hardest thing to ship. Research your options far in advance so you don't have to live out of your suitcase for months.
4. Make Sure Your Electronics Will Work
If you've traveled internationally before, you no doubt have noticed that every country seems to have their own plug and outlet system. Research what the electric system is like in your new country and make sure you have the right plug adapters and power converters to make them work. Cheap, foreign-made products are ineffective and may explode or catch fire when overloaded! ACUPWR's high-quality products are guaranteed up to 120% of their advertised wattage and come with lifetime warranties, so you can still jam on your electric guitar or use a microwave without worrying about sparks flying. Check out all our products to find what you need for your international move. Can't find it? Contact us to talk about a customized power converter.
5. Understand The Costs Of Moving
Moving abroad can become very expensive very quickly. Make sure you understand what everything will cost before you commit. You will probably have to buy new furniture, new health insurance, perhaps even a new car. Shipping your belongings overseas and then over land to your new address will come with a significant cost. You will probably also have to pay for paperwork like a visa and then deal with international and local taxes. As easy as modern technology makes it, there will even be a fee to move your money to an international bank.
6. Get The Paperwork You Need!
The most important part of moving abroad is getting all the legal clearances and documentation you need. Secure a visa or whatever official permissions you need to move and make sure you have your passport. You may also need to get health clearances for you and all the members of your family, pets included. Make copies of all your important documents, from immunization records to legal agreements, and store them in a secure, protected place where you won't forget them.

Moving abroad can be a complicated process, but ACUPWR wants to make it a little easier. Keep an eye out for even more tips in part two of this series, or take your first steps toward a simplified move with lifetime guaranteed power converters and outlet adapters. ACUPWR's American-made products come with fireproof thermal protection, so you will never risk damaging your appliances or putting your family in danger. With Tru-Watt technology, our voltage transformers and power converters are guaranteed for 120% of their advertised voltage. Make your international move a little easier — shop ACUPWR products now!